Availability:
GOOD AVAILABILITY
Only %1 left
Genesis Straight Edge PVC Tile Trim
2.5 Metre Length

Genesis Straight Edge PVC Tile Trims are a classsic straight edge alternative to the popular Genesis PVC round edge profiles. These L shaped tiling trim are manufactured from a highly durable PVC which makes them ideal for all kinds of wall and floor applications including kitchens, bathrooms and wetrooms.
Genesis PVC tiling trim is 2.5 Metres in length and is available in five stylish colours including White, Soft Cream, Soft Grey, Grey and Black.
When choosing the depth of your Genesis Straight Edge PVC Tile Trim we recommend allowing an extra 2mm of depth for the bed of adhesive beneath the tile being applied e.g. a 10mm deep tile trim would ideally be fitted with an 8mm deep tile, with a 2mm bed of adhesive beneath it.
Genesis PVC tile trims create a stylish aesthetic finish as well as an effective protective edge when installed with all kinds of floor tiles, wall tiles and base substrates. The Genesis ESP tile trims can also be used as a capping on a horizontal edge where skirting tiles have been fitted or where walls may not have been fully tiled.
Main Features:
High Quality Durable PVC
Original L Shape Design
Punched Base Flange For superior Tile Adhesion
2.5 Metre Length
Perfect for Bathrooms and Wetrooms
5 Colour Finish Options
4 Trim Depth Options
Protects Tile Edges
Available Trim Depth Sizes:
6mm Depth (Recommended for 4mm depth tiles)
8mm Depth (Recommended for 6mm depth tiles)
10mm Depth (Recommended for 8mm depth tiles)
12mm Depth (Recommended for 10mm depth tiles)
Floors & Walls
Dividing Tiles
Edge Protection
Feature Border Trim
Vertical Feature Trim
Horizontal Feature Trim
Internal Living Areas
Bathroom
Wetroom
Showers
Kitchen
Hallway
Lounge
| | |
| --- | --- |
| Trim Material | Durable PVC |
| Available Trim Depths | 6mm, 8mm, 10mm, 12mm |
| Length | 2.5 Metre |
| Width | 23mm |
| Available Finishes | White, Soft Cream, Soft Grey, Grey, Black |
| Handling & Storage | Stored and handled from original packaging, Protective film |
| Suitable Tile Depth Information | Tile Depth + upto 2mm Adhesive = Trim Depth |
| Weight | 0.15kg |
How do I fit Genesis Straight Edge PVC Tile Trim ?
To fit Genesis PVC tiling trims, ensure that the base of the tile being applied is positioned onto the widest part of the trim which has perforated sections to allow for tile adhesive to pass through it. Position the flat inside edge of the tile trim against the side of the tile and the thinnest top edge should be flush with the front face of the tile.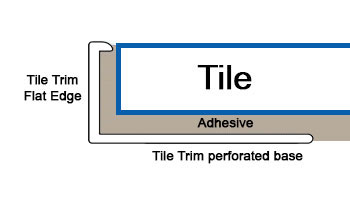 How do you cut Genesis Straight Edge PVC Tile Trim ?
We recommend using a Genesis Mitre block tool and a hand saw with our tile trims to acheive an accurate clean cut. you can find more information about mitre blocks and our cutting tools in the related products section at the bottom of the page.
What products do I use to clean my tile trim ? 
No specific cleaning products are required to maintain and clean your metal tile edging trim. We simply recommend using a soft cloth or duster and a everyday cleaning product like polish to remove any smears, stains or finger prints.
How do I know which tile trim size will fit my tiles?
To work out the required tile trim depth to fit your tiles we recommend the following. First measure the depth of your tile in mm and then add an extra 2mm onto this measurement to allow for your tile adhesive. This calculation will provide you with the correct trim depth for your tiles. e.g. 8mm tile depth + 2mm adhesive = 10mm deep tile trim.
How do I work out how many lengths of trim I will need ?
The easiest way to work out how many tiling trim lengths you will need is to measuring the length and height of the tiled area with a tape measure and add these measurements together. This calculation should give you the overall amount of tile trim required in linear metres. Our trims are usually supplied in either 2.5 Metre or 2.7 Metre lengths offering better coverage for larger tiled areas.