Availability:
GOOD AVAILABILITY
Genesis Square Edge Slimline Aluminium Tile Trim
2.5 Metre Length

From

£6.83

£5.69

inc. VAT

Genesis
Established in 1989 in the ceramic and accessories market, Genesis quickly became a leading brand in the UK and around the world and have gone from strength to strength since. When it comes to tile trims, corners and end caps, Genesis has it all. Check out the range of Genesis products below to see which one will help you complete your current tiling project. As a leading global brand, Genesis provides innovative tile finishing solutions for professional tilers, DIY enthusiasts, and contractors.
Genesis Square Edge Slimline Aluminium Tile Trims are a slim profile with a 5mm visible face. The TMG Tile Trim offers a slim edged finish to any tiled edge and can also be used as an edging trim on vertical wall tiles, horizontal Floor with tiles or even as a feature strip in wall and floor applications.
The extruded Aluminium profile presents a stylish slim modern appearance once installed and is also compatible with matching internal and external corner pieces (EMG) to obviate sharp edges where mitring is necessary.
Where appropriate, trims are supplied with a transparent protective film offering extra protection during transport and storage, simply peel off after installation.
These trims are available in 2.5 Metre lengths and bright polished silver finish as standard.
The Genesis Square Edge slimline tile beading trims creata a beautiful finish and they also have various depth options so its easy get the right trim to suit your installation.
When choosing the depth of your Genesis Square Edge Slimline Aluminium Tile Trim we recommend allowing an extra 2mm of depth for the bed of adhesive beneath the tile being applied e.g. a 10mm deep tile trim would ideally be fitted with an 8mm deep tile, with a 2mm bed of adhesive beneath it.
Genesis slimline aluminium tile trims create a stylish aesthetical finish as well as an effective protective edge when installed with all kinds of floor tiles, wall tiles and base substrates.
Main Features:
Industry Recognised Brand
Robust Metal Aluminium
Slimline Box Shape Design
Perforated installation Base For superior Adhesion
2.5 Metre Length
Hard wearing surface
Bright Silver polished finish
3 Trim Depth Options
Protects Tile Edges
Custom RAL Finish Option Available
Available Trim Depth Sizes:
5mm Depth (Recommended for 3mm depth tiles)
10mm Depth (Recommended for 8mm depth tiles)
12mm Depth (Recommended for 10mm depth tiles)
Floors & Walls
Dividing Tiles
Edge Protection
Feature Border Trim
Vertical Feature Trim
Horizontal Feature Trim
Internal Living Areas
Bathroom
Kitchen
Hallway
Lounge
Dining Areas
Conservatories
| | |
| --- | --- |
| Trim Material | Anodised Aluminium |
| Available Trim Depths | 5mm, 10mm, 12mm |
| Available Trim Lengths | 2.5 Metre |
| Width | 25mm |
| Available Finishes | Bright Silver |
| Handling & Storage | Stored and handled from original packaging, Protective film |
| Suitable Tile Depth Information | Tile Depth + 2mm Adhesive = Trim Depth |
| Weight | 0.2kg |
| Accreditations | Aluminium AA 6063 T6 / UNS A96063 anodised to DIN 17611 |
How do I fit Genesis Square Edge Slimline Aluminium Tile Trim ?
To fit Genesis slimline square edge tiling trims, ensure that the base of the tile being applied is positioned onto the widest part of the trim which has perforated sections to allow for tile adhesive to pass through. Position the hollow inside edge of the tile trim against the side of the tile and the flat front face of the trim should be flush with the front face of the tile.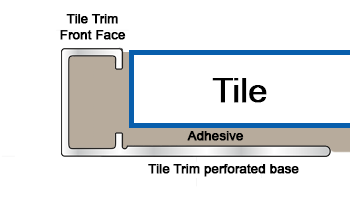 How do you cut Genesis Square Edge Slimline Aluminium Tile Trim ?
We recommend using a Mitre block tool and a hand saw with our tile trims to acheive an accurate clean cut. you can find more information about mitre blocks and our cutting tools in the related products section at the bottom of the page.
What products do I use to clean my tile trim ? 
No specific cleaning products are required to maintain and clean your metal tile edging trim. We simply recommend using a soft cloth or duster and a everyday cleaning product like polish to remove any smears, stains or finger prints.
How do I know which tile trim size will fit my tiles?
To work out the required tile trim depth to fit your tiles we recommend the following. First measure the depth of your tile in mm and then add an extra 2mm onto this measurement to allow for your tile adhesive. This calculation will provide you with the correct trim depth for your tiles. e.g. 8mm tile depth + 2mm adhesive = 10mm deep tile trim.
How do I work out how many lengths of trim I will need ?
The easiest way to work out how many tiling trim lengths you will need is to measuring the length and height of the tiled area with a tape measure and add these measurements together. This calculation should give you the overall amount of tile trim required in linear metres. Our trims are usually supplied in either 2.5 Metre or 2.7 Metre lengths offering better coverage for large tiled areas.